Technical Overview
Our Signal Converter and Splitter is an integral component in industrial applications, designed to facilitate the conversion and splitting of different signal types. It serves as a bridge between devices, ensuring efficient and effective communication. This robust and versatile tool is designed to meet the diverse needs of industrial settings, offering a practical solution for signal conversion and splitting.
Functionality and Use
As a 4-20mA and 0-10V Signal Splitter, the converter is capable of handling a variety of signal types. It is designed to split and convert a 4-20mA signal from a conductivity transmitter into two identical 0-10V signals. This allows for the simultaneous connection of the transmitter to a Programmable Logic Controller (PCL) and a display unit.
Product Variations
The converter is available in several variations, each with a specific order code. These include:
| | | | |
| --- | --- | --- | --- |
| Order Code | Input | Output1 | Output2 |
| LSP-IVCS-1020 | 0-10V | 0-20mA | 0-20mA |
| LSP-IVCS-1042 | 0-10V | 4-20mA | 4-20mA |
| LSP-IVCS-0520 | 0-5V | 0-20mA | 0-20mA |
| LSP-IVCS-0542 | 0-5V | 4-20mA | 4-20mA |
| LSP-IACS-2010 | 0-20mA | 0-10V | 0-10V |
| LSP-IACS-2005 | 0-20mA | 0-5V | 0-5V |
| LSP-IACS-4210 | 4-20mA | 0-10V | 0-10V |
| LSP-IACS-4205 | 4-20mA | 0-5V | 0-5V |
Versatility at Its Best
As a 0-10V Signal Splitter, our converter provides flexibility for various applications. It can handle voltage inputs/outputs ranging from 0-5V and 0-10V, and current inputs/outputs from 0-20mA and 4-20mA. This versatility ensures our converter can adapt to your specific needs.
Easy Installation and High Accuracy
Our Isolated Signal Converter is a DIN Rail Signal Converter, designed for easy mounting on a TS-35 DIN rail. It boasts a high accuracy of +/-0.1%, ensuring precise signal conversion for your operations. It also offers superior noise resistance, ensuring clear, uninterrupted signals.
Key Features
• Four-way isolation: This feature ensures that the input, outputs, and power supply are isolated from each other.
• 3500VDC isolation: This high level of isolation further enhances the splitter's ability to reduce interference.
• TS-35 DIN rail mounting: This feature allows for easy and secure installation.
• +/-0.1% accuracy: This ensures highly accurate data transmission.
• IP40 case: This provides protection against objects larger than 1mm and against vertically falling water drops.
• Screw terminals: These allow for secure electrical connections.
• Power LED: This provides a visual indication of the power status.
• Supply voltage 24VDC: This is the required supply voltage for the splitter.
• Manufactured in the EU: This ensures adherence to high manufacturing standards.
Application example of LSP-IACS-4210 type: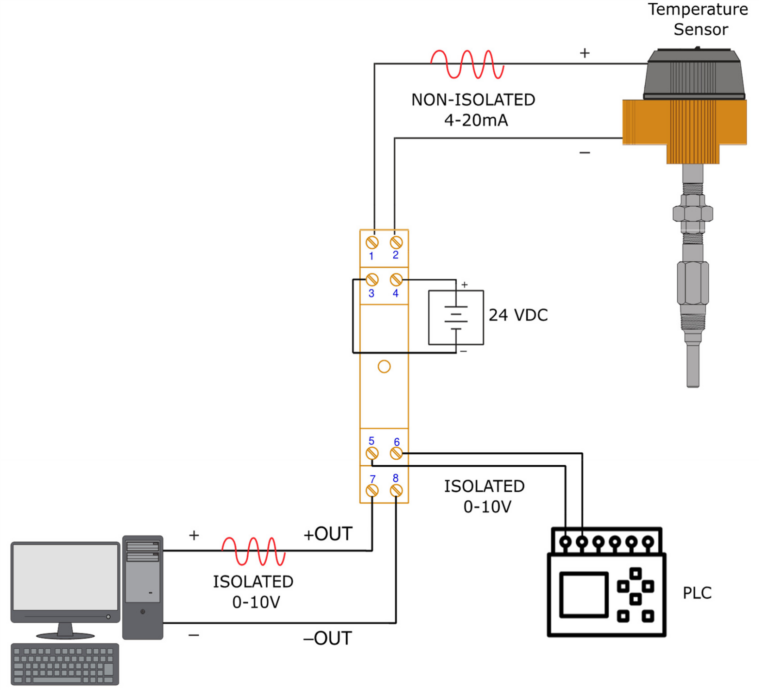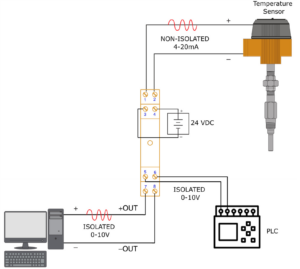 You may also be interested in our products separately, check out our Isolated Splitter for Analog Signals or our Isolated Signal Converter.