Technical Overview
The HMCCS- Conductivity Sensor is a robust tool designed for precise electrolytic conductivity measurement. It's an essential instrument for various industries, including pharmaceuticals, food technology, and water treatment.
Key Applications
• Water Treatment: The sensor is used in pure and ultra-pure water treatment processes to ensure optimal water quality by accurately measuring conductivity.
• Pharmaceutical Industry: The sensor ensures the purity of the water used in drug production by providing precise conductivity measurements, helping to maintain the stringent standards required in pharmaceutical manufacturing.
• Food Technology: The sensor aids in monitoring the quality of water used in food processing, ensuring the high standards of hygiene required in the food industry by maintaining water purity.
• Reverse Osmosis Plants: The sensor measures the conductivity of water before and after the reverse osmosis process, providing crucial data in assessing the effectiveness of the purification process.
Design and Features
The HMCCS- Conductivity Sensor is designed with a stainless steel and ABS body, ensuring durability. It can withstand pressures of up to 8 bar and temperatures up to 100°C. The sensor features a male M12 connector and offers a cell constant of either K=0.1 or K=1. It boasts an accuracy of ± 0.5% and includes a temperature compensation mechanism using a Pt100 sensor, providing flexibility based on the application.
Choosing the Right Sensor for Your Needs
Conductivity measures a fluid's ability to conduct electrical current. Ionized substances in solution influence this. When you choose a conductivity sensor, consider your project details. Ask yourself: Is the expected conductivity high or low? Will the temperature change? Where will you use the probe?
The cell constant, or K factor, is crucial when choosing a sensor. This number gives the probe's geometry. It also shows which liquids the sensor can measure.
A low cell constant indicates a small distance between the conductor surfaces. It also means less liquid to measure. This makes it suitable for pure and ultra-pure water.
A larger cell constant allows more liquid to enter the probe. This makes it suitable for liquids with higher expected conductivity. Understanding these factors helps you choose the right sensor. The HMCCS- Conductivity Sensor, with its precise measurements and robust design, is a top choice for professionals in pharmaceuticals, food technology, and water treatment.
Based on the table below, we can determine the approximate cell constant probe we will need.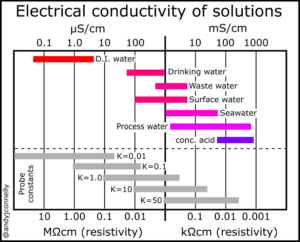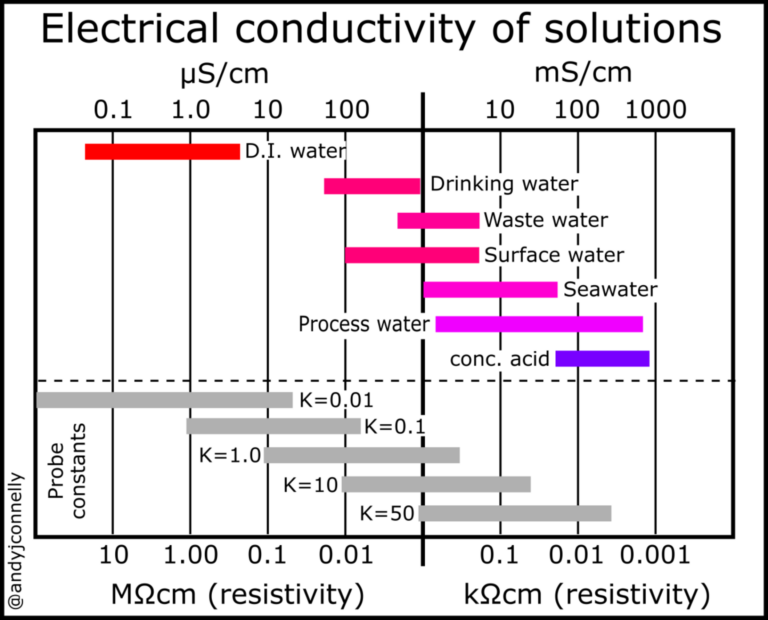 You might also be interested in our Conductivity Transmitter, or our Conductivity and Temperature Transmitter.