The solar control panel has no buttons and menu to avoid changing the settings by non-technicians/non-professional personnel. However, by removing the front cover, the technician/professional personnel can adjust the settings with the potentiometers and jumpers.
What does the solar controller do?
Who wouldn't want to save on their expenses, for instance on energy bills?
Firstly, a solar system is only a one-time investment, secondly, it is an environmentally friendly solution. In other words, definitely worth the price.
A solar system can be an economical investment. In addition it requires minimal additional energy to operate it. You need to invest in it once, after that, you just need to enjoy your free hot water. An essential part of this system is the controller, which helps to operate efficiently and protects the components of the system from possible errors.As a result, our solar control offers a solution for this task.
Its main function is to switch on and off the circulation pump in the right time. The controlled pump delivers the heat transfer medium to the correct location. That place is most often a water tank where we store domestic hot water produced by the sun. Heat transfer usually takes place in a closed loop. That is why the increase in pressure must be taken into account. Therefore, we recommend that you seek the help of a specialist in setting up your solar system.
In short, our module has two inputs. Both are Pt1000 probe, one entering the solar heat harvester system, the other one is entering the water tank. It has one output to switch the pump to circulate the heat exchange medium. The controller is supplied by the grid from 150V to 240V AC.
Features
• Anti-freezing function
• Vacation mode
• Sound alarm
• Temperature displaying
• Sensor fail alarm
• Wall mountable case
• Manual control
• Pump saver function
How does the solar control work?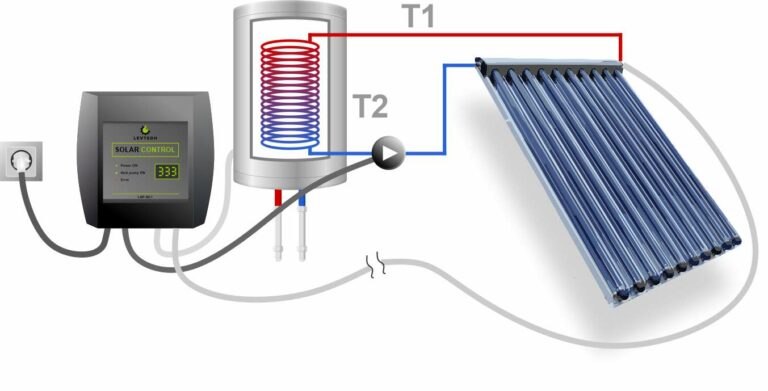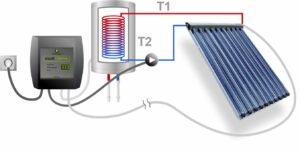 Check out our puffer control. This allows an efficient hot water storage for you.